Here is a free book,

good until 12am (PST) June 20:
Carina Press is hosting a free book everyday this week.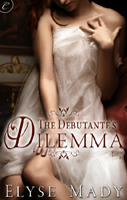 The Debutante's Dilemma
by Elyse Mady
Historical Romance
download
HERE
FREE CODE:
DEBUTANTEFREE
Miss Cecilia Hastings has achieved what every young lady hopes for during her first London season…in duplicate! She's caught the eye of not one but two of England's most eligible bachelors. Both Jeremy Battersley, Earl of Henley, and Richard Huxley, Duke of Wexford, are handsome, wealthy and kind. But Cecilia doesn't want proper, she wants passion. So she issues a challenge to her suitors: a kiss, so that she may choose between them.

Friends since childhood, Jeremy and Richard have found that falling for the same woman has set them at odds and risks destroying their friendship forever. But a surprising invitation to a late-night garden tryst soon sets them on a course that neither of them could have anticipated.
When Kenan, an incubus, finds a caged angel for sale in the Hellsgate marketplace, he sees her as a challenge. Certain that his skills in seduction will work as well on a heavenly creature as they do on mortal women, he buys Jahel, intent on having her soul as a novelty in his collection.
Knowing he must gain Jahel's trust if she is to come to his bed willingly, Kenan treats her more as his guest than as his slave. When she reveals what brought her to the mouth of Hell in the first place—retrieving the soul of a young girl she was guarding—he even offers to help her complete her mission.
Though he has promised Jahel freedom, Kenan soon realizes she has captured his heart instead. And as their passion for one another grows, they find themselves caught in a struggle between Heaven and Hell, one that will lead them to the very edge of the apocalypse...