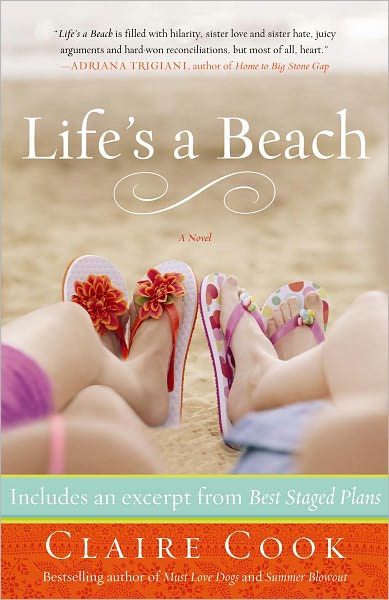 Life's A Beach by Claire Cook
Download from B&N
here
.
By the bestselling author of Must Love Dogs, the story of two grown-up sisters who fight like cats and dogs--but call each other at least twice a day. Luckily for her legions of fans, Claire Cook returns with another sparkling romanitc comedy that's reminiscent of Must Love Dogs in all the right ways, but very much its own animal--about a relationship-challenged single woman, her quirky-to-put-it-mildly extended family, and the summer the shark movie came to town.
Life's a bit of a beach these days for Ginger Walsh, who's single at forty-one and living back home in the family FROG (Finished Room Over Garage). She's hoping for a more fulfilling life as a sea glass artist, but instead is babysitting her sister's kids and sharing overnights with Noah, her sexy artist boyfriend with commitment issues and a dog Ginger's cat isn't too crazy about. Geri, her BlackBerry-obsessed sister, is also nearly over the deep end about her pending fiftieth birthday (and might just drag Ginger with her). Toss in a dumpster-picking father, a Kama Sutra T-shirt-wearing mother, a movie crew come to town with a very cute gaffer, an on-again-off-again glassblower boyfriend, plus a couple of Red Hat realtors, and hilarity ensues. The perfect summer read, Life's a Beach is a warm, witty, and wise look at what it takes to move forward at any stage in life.
Tales of Aradia: The Last Witch by Magnum Opus
Nook
/
Kindle
Unknown to the humans who hung innocent people at the Salem Witch Trials real witches of the hidden race were killed for fear of exposure or at least that's what all the vampires, werewolves, and other races thought.There was not one witch whom survived the genocide of the Salem Witch Trials. But one day a girl named Aradia moves to Salem, MA and all that changes.
Thanks to Lori over at
Romancing the Darkside
for helping me out this Friday and sending the list below.
Fools Rush In by Janice Thompson {Contemporary Romance} Nook / Kindle
Dating A Cougar - Donna McDonald {Contemporary Romance}Nook Save My Soul - Zoe Winters {Paranormal Romance} Nook
Saying Goodbye To The Sun - David McCafree {Vampires} Nook / Kindle
Foreplay - Jill Miles {Paranormal Romance} Nook / Kindle