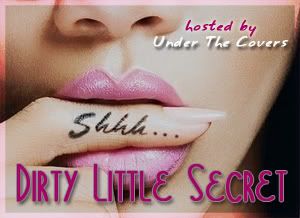 Dirty Little Secret
is a weekly meme hosted by Under the Covers. Every Thursday we get to know other bloggers and our readers more intimately by asking them a question hoping to reveal their dirty little secrets. We hope that you will all join us!
This week's question:
"What's sexier? Tats or piercings?"
Answer:
Actually it's not so much which one that's the question; it's what does the body look like that has them. If the guy has a great body I can roll with either or both. But if it's some overweight old dude then it doesn't matter. (That goes for chicks too)
And speaking of old dudes. Yeah tats can be sexy, on a twenty-something but once you start hitting the forties and older it's just not sexy anymore. Something to keep in mind when getting all tatted up.
One thing about piercings over tats, when you get old you can take them out. Expect for the gauges (which I don't like). I'm more of a body piercing instead of ears.
So what's your answer? How dirty do you like your men/women?