Anita Blake, Vampire Hunter: Guilty Pleasures Ultimate Collection
by Laurell K. Hamilton, Jessica Ruffner, Ron Lim (Illustrator)
Pub. Date: October 2011
Publisher: Marvel Enterprises, Inc.
BUY: Amazon / B&N
MY COPY:
Library Copy
RATING:
The first novel in Laurell K. Hamilton's bestselling Anita Blake series, complete in one volume! Before there was a Buffy camping it up, before there was a Bella waiting for her savior - there was Anita Blake: a vampire-hunting heroine built to stand up to an undead threat centuries in the making. During the seventeen years since her debut, Anita's tough, no-nonsese approach has won her millions of fans and racked up tens of millions of sales in bookstores around the world! In Guilty Pleasures, you'll meet the iconic character behind Laurell K. Hamilton's series of novels that pioneered the wildly popular genre of contemporary vampire drama. An expert adaptation of Hamilton's New York Times bestselling novel ,Guilty Pleasures introduces you to Hamilton's endlessly inventive world of St. Louis, the Midwestern city that is home to a world of undead - enjoying life, liberty and the pursuit of hapiness...and protected by law! Sleek, sexy, sarcastic and with a semi-automatic full of silver slugs, Anita Blake is sometimes the only thing standing between the human populace and their undead neighbors.
REVIEW:
I've read all of the Anita Blake series (I have
Hit Lis
t on my shelf but I've not gotten to it). And I've been mourning the early Anita and wanted to do a re-read of the early books. I love the artwork in the graphic novels so I decided to mix the two; artwork and the early Anita by reading Guilty Pleasures graphic novel.
The graphic novel follows the story line in the book version of
Guilty Pleasures
but the amazing artwork makes it even better this time around. The vampires are much scarier in the graphic novel than the book. After experiencing Anita in this media I will defiantly check out the others in the series.
I give the story a rating of 3 stars but the artwork gets 5 stars. If you are an Anita fan you should try reading her in this format.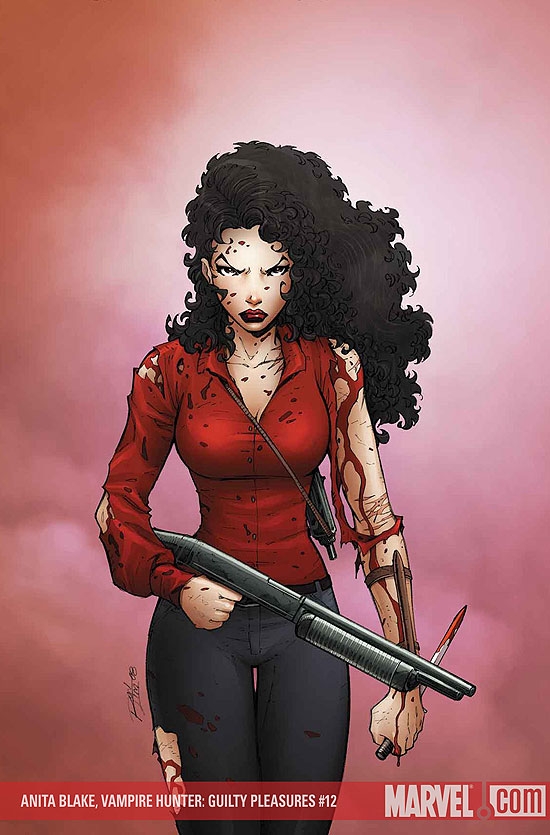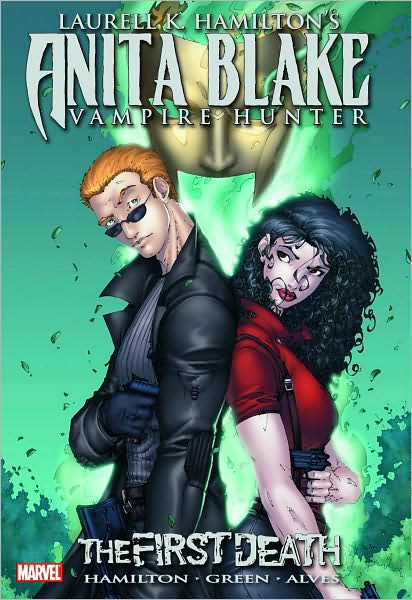 I plan to request
Anita Blake, Vampire Hunter: The First Death
next at my local library.
Her fans have been asking for it - now, Laurell K. Hamilton delivers a look into Anita Blake's past! Written by Laurell K. Hamilton herself, along with Jonathon Green, The First Death takes place almost a year before the events being chronicled in Guilty Pleasures. Witness the first meeting of Anita and Jean-Claude, Anita's first time inside Guilty Pleasures, her first serial-killer case, and an early encounter with Edward. Prepare to be thrilled by this original story produced especially for comics!