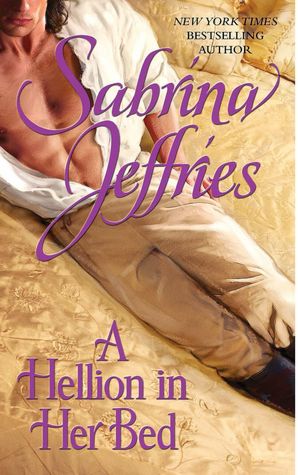 A Hellion in Her Bed
Published September 21st 2010 by Pocket Star
BUY:
Amazon
-
B&N
★★★★

1/2
Furious at his grandmother's ultimatum to marry or lose his inheritance, Lord Jarret Sharpe wagers his luck—and his heart—at the card table against a most unlikely opponent.Mired in scandal after his parents' mysterious deaths, notorious gambler Lord Jarret Sharpe agrees to tamely run the family brewery for a year if his Machiavellian grandmother rescinds her ultimatum that he marry. But the gambler in him can't resist when beguiling Annabel Lake proposes a wager. If she wins their card game, he must help save her family's foundering brewery. But if he wins, she must spend a night in his bed. The outcome sets off a chain of events that threatens to destroy all his plans . . . and unveils the secret Annabel has held for so long. When Jarret discovers the darker reason behind her wager, he forces her into another one—and this time he intends to win not just her body, but her heart.
(pic and summary from Goodreads)
A Hellion in Her Bed
is the second installment of the
Hellions of Hallstead Hall
. This book took a little time to catch me, but it did not leave me disappointed.
Wed before the end of the year or be disinherited, Lord Jarret Sharpe is not all interested in his grandmother's ultimatum. He would rather continue is life as a gambler and rake. He also is not interested in running her brewery, unfortunately, his grandmother is ill and he has no choice but to take over for her.
Annabel Lake is a sassy brewster and a "ruined" woman, who will do anything to save her family's brewery, even make a bet with the dangerously handsome Lord Sharpe.
The plot was wonderful! I've never read anything like this and I really enjoyed the historical brewery aspect of this novel. I liked how Annabel was not the average, lovely debutant. She is thirty, a spinster, and "ruined" while Jarret is my favorite kind of hero. The characters were fun together: witty and sexy. The romance is sweet and slow building, yet I like my books to have a little more steam.
Now, I need to get my hands on the rest of this series!