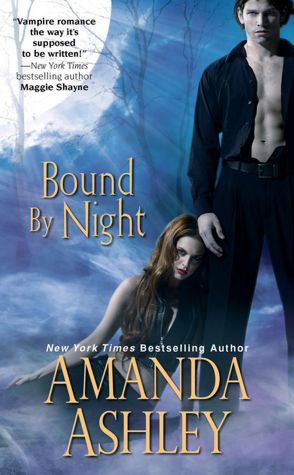 Bound by Night
by Amanda Ashley
Mass Market Paperback, 340 pages
Published August 30th 2011 by Zebra
★★★
1/2
A Vampire's Kiss Is Forever. . . Once featured in a horror movie, the crumbling Wolfram estate is said to be haunted by ghosts, witches, and worse. But Elena doesn't believe a word of it—until she spends the night and wakes up in the arms of a compelling stranger. .
Tall, dark, and disturbingly handsome, Drake is the most beautiful man Elena has ever seen. For centuries, he has lived alone, and Elena is the first woman to enter his lair—and survive. And Drake is the first man to touch her heart and soul. By the time she discovers who he really is—and what he craves—it's too late. Blood lust has turned to love, and Elena is deeply under Drake's spell. But forever comes at a price for each of them. . .
REVIEW:
Bound by Night
is the first book in Amanda Ashley's two part Bound Series. It is also my first time reading this author and I enjoyed the story enough that I will be reading the other book in the series,
Bound by Blood
.
Bound by Night
is an enjoyable paranormal romance with some suspense thrown in the mix. Even though the plot is set in modern day, it reads more like a historical. I think the fact that Drake is a 500 plus year old vamp living in a castle in Transylvanian, Romania has a little to something to do with the old world feeling. I didn't feel like Elena was a modern young woman but then I had to remind myself that she was living in Romania and how their cultural is different than ours and they may still have some old fashion ways.
Elena is an American girl that went to live with her aunt in Romania after losing her parents at a young age. She grows up living with her aunt, uncle and cousin but soon it's just her and the uncle. The uncle is the chief of police for the village and a real douche bag. So after he tells Elena that she should marry him and give him a son, she runs away. But she doesn't have anyone or anywhere to go so she finds herself in the "haunted" castle near her uncle's home.
That's where she meets Drake. The yummy and mysterious man that she later finds out is a vampire. But
Bound by Night
is not you run of the mill vampire love story. Well some parts are, but the mythologies of vampires are a little different. There was an element or two to their mythology I've not read before, which was nice and refreshing.
Drake and Elena's love story was a little like Romeo and Juliet in the way that their worlds instead of family are trying to keep them apart. Humans are sheep to vampires, food and nothing else. Oh, sure they might get a little friendly with their food but vampires and humans are not allowed to marry each other.
I had an "I knew it" moment that was fun while reading. Well, actually two moments but even though some of the plot was a little predictable I still enjoyed
Bound by Night
and will be digging into
Bound by Blood
very soon.
Part of: