(Travises #2)
MEET THE BLUE-EYED DEVIL -
His name is Hardy Cates. He's a self-made millionaire who comes from the wrong side of the tracks. He's made enemies in the rough-and-tumble ride to the top of Houston's oil industry. He's got hot blood in his veins. And vengeance on his mind.
MEET THE HEIRESS - S
he's Haven Travis. Despite her family's money, she refuses to set out on the path they've chosen for her. But when Haven marries a man her family disapproves of, her life is set on a new and dangerous course. Two years later, Haven comes home, determined to guard her heart. And Hardy Cates, a family enemy, is the last person she needs darkening her door or setting her soul on fire.
WATCH THE SPARKS FLY....
Filled with Lisa Kleypas's trademark sensuality, filled with characters you love to hate and men you love to love, Blue-Eyed Devil will hold you captive in its storytelling power as the destiny of two people unfolds with every magical word.
I am some what new to the contemporary world and Lisa Kleypas was a great place to start. Her writing just sucks me into the story and I feel everything that the characters feel.
Blue-Eyed Devil
made me cry like a baby. Haven went through so much hurt that I wanted to just give her a hug.
Haven meets a sexy stranger at her brother's wedding. They have a moment in the wine cellar then she returns to her boyfriend's side, trying to forget the kiss she shared with the stranger.
She later finds out that the stranger is Hardy Cates. The guy that has a history with her brother's new wife and is a business enemy of her family.
Haven forgets Hardy and marries her boyfriend. Then after a couple of years later and many horrible things, Haven runs into Hardy again and all those feelings that he heated up in Haven returns in a hot rush.
Haven sees Hardy as nothing but a bad boy who has a different woman on his arm every night and tries her best to stay away from him. After all he can't really want her; he must be using her to hurt her family after he lost to them in a business deal.
Hardy has never forgotten about Haven after the kiss they shared that nigh in the wine cellar. No other woman has made him feel the way that she has and he is determined to make her his. And not just for a night but forever.
Haven and Hardy have some major issues to over come but in the end it all comes together.
Blue-Eyed Devil
is a very emotional roller coaster. But it's worth the ride.
Book Club Read: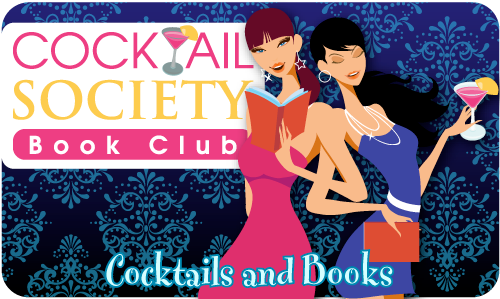 Check out Goodreads group by clicking on image
Cocktail of choice:
Grab your favorite wine and a box of tissues for this read.
Next Month's Book: