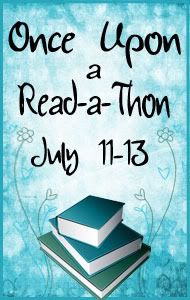 It's time to sign up for the second annual Once Upon a Readathon! This Readathon is hosted by Angela at
Reading Angel
, Candace at

Candace's Book Blog

and at
Pure Imagination Blog
. It runs from 12:01 am on July 11 to 11:59 on July 13th.
I just ran across the Once Upon a Read-a-thon and decided to sign up for it. It's my first read-a-thon and I'm very excited. What to read?! I have a huge TBR so this will help me get through some of the books that have been waiting on my shelf/Nook.
Since it's scheduled during the week and I'll have to work (boo!) I'm sure I'll "cheat" a little and throw in a few novellas and shorts. ;) Hey reading it reading, right?
Once the date gets closer I'll post my reading list for the read-a-thon and keep it updated so everyone can see my progress and I'm sure I'll post reviews for most of what I read during that time.