This week's featured Bloggers are: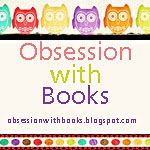 Q.
Do you have a favorite series that you read over and over again? Tell us a bit about it and why you keep on revisiting it?
A. The only series that I've re-read the whole series is the Night Huntress series by Jeaniene Frost. I re-read books 1-4 before book 5 came out. It was over a year's wait between 4 and 5 so I wanted to refresh my memory on the little details. Plus I just love the series so much that I wanted to relive it from the beginning.
I started re-reading Twilight series but stopped at New Moon. I re-read Twilight and New Moon before New Moon the movie came out. I didn't bother re-reading Eclipse, I just had too many books on my TBR that I've not read yet.
A series I will re-read in the near future is the Fever series by Karen Marie Moning.
Now take a look at what happened at
The Book Nympho this week:
REVIEWS:
Where Demons Fear to Tread by Stephanie Chong
Guilty Pleasures by LKH
{Graphic Novel}
TV REVIEW:
Vampire Diaries
500 Follower Giveaway
{Ends Sunday}
Banned Books Week Hop
{Starts Saturday}
NEXT WEEK:
Guest Blog & Review
Tuesday
Wednesday
Guest Blog
Thursday