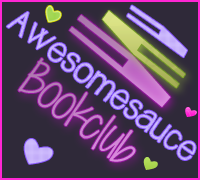 Dear Jennifer,
Since its you blogoversary I have decided to come out of my Stalker closet and let you and the world know how much I love you. I have been keeping it a secret for far to long and its just time to put it out there. I mean the whole reason I decided to go to the RT convention was to meet you. lol This is serious business
How it all began:
I remember the first time I started to notice you. Carmel at Rabid Reads was doing that Feature Holler at a Blogger and you she choose you. Your name made me want to hop over and check you out. This is when you where under construction with your new design. So I made sure I followed you everywhere then one day on twitter I saw your new avi so I had to jump over and see your design and it was love at first site. I couldn't help it, your design was my favorite thing ever.
Then as time went on we still really weren't on a big talking basis. But I kept seeing you and Jen from Red Hot Books talking dirty and her showing her those penis pictures. Which got me even more interested. I love me some perverts. So I of coarse started jumping in your conversations and you both welcomed me with open arms. Those conversations are what I consider a start to a very beautiful relationship.
Your Pervertness:
I also remember a night where we were all talking and you where popping out crazy gross sexual phrases that no person should really know about. I mean I remember something about toe sex and I think that was the tamest thing you had going. Then we would tweet you a word and you would make up the most bizarre sexual like things that it could mean.You would also critique those penis pictures like it was your job. It was great fun and that is when I just knew this was the real thing. My secret stalker crush was validated.
You are my new book Pimp:
You recommend me these series that I have never read and just love!! The Kate Daniels series, The Jane True series and I am sure there are other random books out there too. I can't imagine my life without reading these amazing books. I am so happy you gave me the push I needed to read them. Especially the Jane True series I had never even heard of it.
To Sum it all up:
I just plain love you. (too soon?) You are just awesome. I love how funny you are, your sick sense of humor, your book recommendations and pretty much everything about you. I think you are the complete package. I hope I don't scare you off because I need you in my life. I can't wait to meet you two times this year! Yes your crazy stalker is following you around at book conventions. I promise not to do anything weird so there is no reason to sleep with one eye open or anything.
Love Always,
Amber I @ AwesomeSauce Book Club
Follow Amber I. at AwesomeSauce Book Club on:
In honor of Jennifer being awesome and it being her blogoversary I will be giving away a $10 Gift Card or $10 worth of Books from The Book Depository.
a Rafflecopter giveaway
a Rafflecopter giveaway
a Rafflecopter giveaway
Part of: